In the first Test match of the two-Test series between India and Bangladesh, Team India defeated Bangladesh by a big margin. Now the second Test match will be played with a pink ball in Kolkata. The test will be played on Matchday and Night, which is going to be historic for both teams. Both teams will play the Day and Night Test for the first time. Preparations for making this match memorable have also begun. Where West Bengal Chief Minister Mamata Banerjee and Bangladesh Prime Minister Sheikh Hasina will announce the opening of the match by ringing the bell at the Eden Gardens, the paratroopers of the Indian Army will give a pink ball to both captains.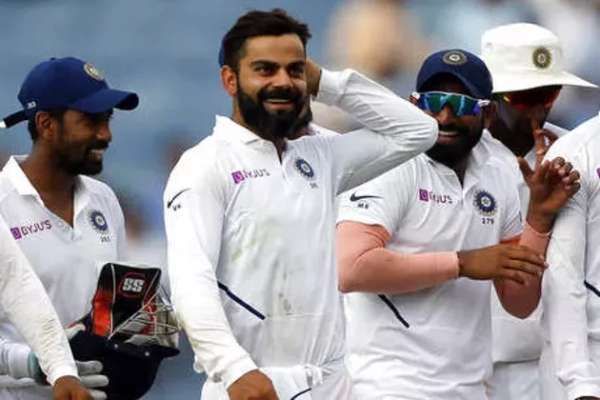 Bengal Cricket Association secretary Oshik Dalmiya said the paratroopers would come up with two pink balls before the toss in the day-night test match. Dalmia said the series was discussed with the army (East Command). Before the match begins, the army will also play the national anthem of both the countries. Later, Sheikh Hasina, the Prime Minister of Bangladesh and West Bengal Chief Minister Mamata Banerjee will ring the Eden Garden.
BCCI
2
@BCCI
Looks who's here - Unboxing the Pink Cherry - # TeamIndia had a stint with the Pink Ball at the nets today in Indore #INDvBAN.
Embedded video
15.5K
6:24 PM - Nov 12, 2019
Twitter Ads info and privacy
1,068 people are talking about this
The indoor Test match was played with a red ball, where Kohli-led team India took full advantage of their experience. But in Kolkata, Kohli will face the challenge of managing his team more than Bangladesh, as most players will face the pink ball for the first time. For the first time, Team India will play a day and night test match with a pink ball and therefore the players have no experience playing with that ball. However, Team India had started practice at Indore with a punk ball so that Kolkata did not face any problems.
This will be a new experience for the entire team internationally, but some of Team India's players have played before the pink ball. However, the experience of the pink ball for captain Virat Kohli will be a new one. Cheteshwar Pujara, Ajinkya Rahane and wicketkeeper batsman Saha have also played before the pink ball, but most players have no experience.